Summit for Parkinson's - Autumn Conference & Kalispell "Watch Party"
---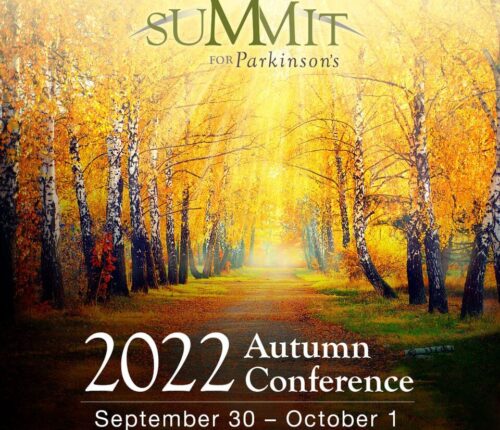 Summit for Parkinson's - Autumn Conference & Kalispell "Watch Party"
Save the date!
Summit for Parkinson's annual Autumn Conference will be held September 30-October 1, 2022 in Missoula, MT. A virtual option will also be available!
Receive the latest resources, information on Parkinson's, treatment options, exercise, nutrition and connect with others at our FREE Autumn Conference.
We are joined by providers and professionals from the Comprehensive Movement Disorders Program for Northern CA, Kaiser Permanente, the Brian Grant Foundation, Community Hospital, Providence St. Patrick Hospital, Partners in Home Care and other local professionals and Parkinson's teams. Throughout the two days we will explore how knowledge, exercise, nutrition and connection can be utilized as powerful tools for those dealing with the impact of the disease.
This is an excellent opportunity to connect and meet others living with Parkinson's and to pursue living dynamically through available resources.
ATTENDING OPTIONS
We understand there is a great value in hosting an in-person conference as well as having a virtual option to keep everyone safe and making choices that fit their needs. The conference is FREE and the virtual option is live and interactive so you won't have to sit and watch pre recorded videos. Once we open registration on August 29th, we will also list several group watch options across the state.
We hope this helps you while maintaining your safety.
****ATTENTION:  LOCAL FLATHEAD VALLEY SUPPORT GROUP MEMBERS****
The local Flathead Valley Parkinson's Support Group will be holding a local "Watch Party" at the Hampton Inn, 1140 Hwy 2 W., Kalispell. The party begins at 9:30am and goes until 4:00pm on Friday  and Saturday, Sept 30th and Oct 1st. We will be viewing the live event from Missoula on Zoom from the party headquarters at the Hampton. You can come and go as you wish, attending those events that you are interested in. Please see the Agenda (below) to determine which parts of this event you would like to attend.
There will be several breaks throughout the day and refreshments will be provided. Lunch is on your own from 12-1p. This event is free and anyone with an interest in Parkinson's  is welcome to attend. For questions, contact Marjory at marjmccl@yahoo.com or 406-250-5577.
Summit for Parkinson's 2022 Conference Agenda
Friday, September 30, 2022:
9-9:40 AM: Conference Registration, socialization, table viewing
9:40-10 AM: Welcome remarks and Conference intro with Andy Laue
10-11 AM: "Parkinson's 101" presentation by Dr. Suketu M. Khandhar
of the Comprehensive Movement Disorders Program for
Northern CA, Kaiser Permanente
11-11:15 PM: Break
11:15-12 PM: Panel discussion with Dr. Khandhar and 2 other Neurology
specialists
12-1 PM: Lunch break and table viewing
1-1:30 PM: Power Moves with Diane Morgan, DPT
1:30-1:45 PM: Break
1:45-2:45 PM: Patients and Care Partner Panel discussion led by Andy
Laue
2:45-3 PM: Break
3-3:45 PM: A Community Conversation open to all participants about the
relationship between patients and their caregivers, led by
Andy Laue
3:45-4: Wrap up and closing by Andy Laue
Saturday, October 1, 2022:
9-9:40 AM: Conference Registration, socialization, table viewing
9:40-10 AM: Welcome remarks, review and Conference intro with Andy
Laue
10-11 AM: Importance of Exercise, led by Brian Grant of the Brian
Grant Foundation and Dianne Morgan, DPT
11-11:15 PM: Break
11:15-12 PM: Exercise Demonstrations with Brian Grant Foundation
Videos, led by Brian Grant and Diane Morgan
12-1 PM: Lunch break and table viewing
1-1:30 PM: Tai Chi
1:30-1:45 PM: Break
1:45-2:45 PM: Importance of Nutrition, Led by Brian Grant, as well as
specialists in nutrition, speech and Occupational Therapy
2:45-3 PM: Break
3-3:45 PM: Nutrition demonstration led by the same team
3:45-4 PM: Wrap up and inspirational closing by Brian Grant