ROCK STEADY BOXING
---
Rock Steady Boxing exercises are largely adapted from boxing drills. Boxers condition for optimal agility, speed, muscular endurance, accuracy, hand-eye coordination, footwork and overall strength to defend against and overcome opponents. At RSB, Parkinson's disease is the opponent. Exercises vary in purpose and form but share one common trait: they are rigorous and intended to extend the perceived capabilities of the participant.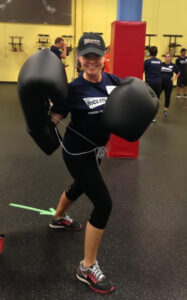 Rock Steady Boxing is one of the best activities you can do to slow the progression of Parkinson's. Fortunately, for the Kalispell Parkinson's community, we have an excellent program led by Lynnell Gravelle, a Physical Therapist with Advanced Rehabilitation Services. Lynnell has extensive experience in treating people with Parkinson's. As a Rock Steady Boxing coach, she started the Glacier Rock Steady Boxing program in Kalispell three years ago and has had an energetic, committed group of boxers ever since.
HOW CAN BOXING HELP YOU LIVE WELL WITH PARKINSON'S?
PRESENTED BY:

Rock Steady Boxing classes are currently being held in person (social distancing required). Check our Calendar for days and times. If you're interested in getting involved with Rock Steady Boxing either as a participant or volunteer, contact Lynnell Gravelle at lynnell@arspt.com or 406-752-7250.